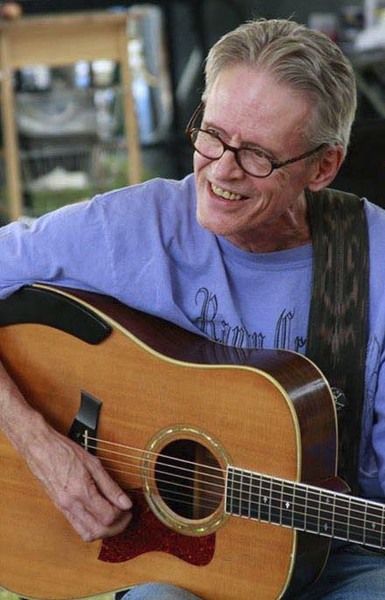 Follow story
Receive email updates when there are changes to this story.
James Palmer "Moose" Moss
October 12, 1949 - December 03, 2017
James Palmer "Moose" Moss, 68, a long-time sports writer and editor at The Joplin Globe and a well-known area musician, died Sunday, Dec. 3, 2017, at his home after a lengthy illness.
Jim was born on Oct. 12, 1949, in Joplin. He was a 1967 graduate of Joplin High School and attended Missouri Southern State College. He was a lover of sports, especially baseball, a love that developed as a child when he played Little League baseball.
He joined the news department of The Joplin Globe in 1967 and, aside from working for a period at the Springdale (Ark.) News, the University Library at Fayetteville, Ark., and as a cab driver in Joplin, he spent his career with The Globe. He began as a sports writer, traveling to various sporting events as part of his job. Later, he worked as a district news editor and a wire and copy editor, the position from which he retired in 2015, due to ill health.
He was well-respected at The Globe and was extremely dedicated to his job. After retirement he enjoyed reading the newspaper, front to back, and "editing" from the comfort of his couch. Many times, he wished he was still working at The Globe, so he could fix mistakes he discovered.
Jim was a widely known musician who loved a good music jam. He was a man of many musical genres and his friends often referred to him as a human jukebox and a "Musical Giant." He spent many days and nights picking in jam circles or performing as a vocalist and lead guitarist with several bands, including Comfortable Shoes and On the Edge. As a stalwart activist for human rights, he loved playing a good protest song.
Many of his happiest moments were spent at the Walnut Valley Festival at Winfield, Kan., and the Woodie Guthrie Festival in Okemah, Okla. He first attended the Winfield music festival in the 1970s with a close friend and it was love at first camp. From then on, he spent every September at Winfield, his "home" where his friends became his family. During the entire week of the festival, he would guitar pick from sun up to almost sun up the following day.
Jim had an amazing sense of humor, loving a good pun, and he was a tolerant, kind, generous, patient, extremely wise, and humble man. He was always willing to help others and he was always genuine. He was an inspiration and mentor to an endless number of musicians, writers, co-workers, and friends. He was so humble that he had no idea how greatly he was adored and admired.
His son and grandchildren were his pride and joy and he enjoyed time with them very much. They always gave him a good laugh.
He also loved food, liking to have his cake and eat his pie, too. The last couple years of his life, he had an amazing caretaker and friend, Susan Sims, who kept him well-fed. He called her his "angel."
He is survived by his son and daughter-in-law, Jeremy and Lauren DeLeurere Moss, Joplin; grandchildren Eliah James Pierre Moss and Sadie Jane Moss, Joplin; a brother and sister-in-law, David and Donna Challberg Moss, Joplin; and a niece Angela Moss Moore and her husband, Mitch, Lamar.
He was preceded in death by his parents, Clyde Moss and Helen Palmer Moss.
There are no words to describe how greatly Jim will be missed. Rest in Peace and love, Moose. Enjoy playing in the angel band and "Don't Think Twice, It's Alright"
Memorial contributions may be made to Hospice Compassus, 2650 East 32nd Street Suite 100, Joplin, MO, 64804.
Published on
December 6, 2017
Obituary published in
Events
Guestbook
Print Guestbook
Share your condolences and special memories.
The guestbook expires on December 05, 2018.
Share a message.
Add photos to your message
12 posts
Jeremy and Lauren Praying for your comfort & peace at this time of loss but also rejoicing in the wonderful life JIM enjoyed and what a wonderful Dad he was ❤️
Moose

You is my friend and you stay my friend. We played so many times at the Confortable Shoes Camp with an incredible intensity cause we could only play two weeks a year. It's one of my best souvenir of my life!
You introduced me to the Camp Family and they are "my US Family".
You push me to sing and you were right. I discovered the pleasure and the power to sing.
I saw you in September and it was good! I'm happy about that.
Your shape was not so good but we talked about life and nothing... As friends.
I'm so sad but I know we'll pick some in another World.

Repose en Paix. Je t'aime.

Pierre
Rest In Peace Moose. Much love and comfort to Jeremy, Lauren and the babes. As well as everyone affected. 🙏🏼❤️
Moose included me in the musical group by encouragement i have improved over the past 20 years.
I had never sang with live musicians before and he kept playing until he landed on 16 tons and helping me remember the words I felt such warmth and friendship from him always. I will truly miss him.
God bless you Moose. RIP. I'll always remember your rendition of The Draft Dodger Rag.
So sorry to hear of his illness and death. Special condolences to my class of 69 classmate, David. Jim went too soon and I'm so sorry for you and his family. He was supposed to sing an original song at our wedding but think he got cold feet! He sang it for us but don't know what ever became of it. A great guy!
I was so saddened to learn of Jimmy's passing today. My sympathies and condolences to his family. We spent many Friday nights together on the Globe sports desk wayyy back in the late 60s, chasing late football scores and trying to get all the high schools in the four-state area covered. Those were the fun days ... today, not so much. You'll be missed; RIP, Moose.
I knew him a short time but enjoyed being around him and Suzanne. He had the most fantastic laugh. He made a person happy just being around him. Will miss him.
Moose encouraged, embraced and inspired so many. He was a dear friend and mentor.
Much love to all his families.
Jim..Gone but never forgotten. God bless your spirit and your family. We so enjoyed Jim's music and sense of humor. Thanks to Jim for intro to the nose flute. We didn't play instruments, and at our 1st Winfield festival, Jim wanted to see us involved. He cared. Jim gave us a couple of flutes. Fun memory. Rest in peace, Jim. ❤
The obituary says it better then I possibly could. Right on. Jim was one of the "good" guys !!! He will be greatly missed.
To all Jim's family: So sorry for your loss. Jim was such a good journalist and mentor. I remember the time I spent in the Globe's newsroom with great fondness. Jim was part of the reason. I always had to smile when hearing him laugh with Michael Stair. My wife (Julie - who also worked with Jim) and I pray for comfort and peace to your family.